Japan's Elite Global Corporate Executive Program
What is Fushiki-juku?
Fushiki-juku is an executive training program exclusively designed for global business leaders in Japan. It runs under Fushiki-an, an educational institution for business leaders established in Tokyo in 2010. The participants are high-level business executives identified by the senior management of their corporations for entry to this program. The majority of participants is in their forties and fifties and belongs to leading Japanese corporations (see below for participating companies).
Fushiki-juku's 10-month program (May to February every year) is quite unique and contrasts sharply with ordinary MBA-type executive programs. Unlike many business schools, Fushiki-juku puts stress on humanities and liberal arts and also on learning histories and cultures of different countries in comparative perspective. The reason for the focus is our belief that today's business leaders who work in a globalized business environment need to understand and know more about different cultures and value systems around the world.
In particular, Fushiki-juku's program is aimed at encouraging students to understand in a reflexive way differences and similarities among various traditions, so that they can re-examine critically their own place and identity in a comparative context. This is why Fushiki-juku starts its program with courses on religion, philosophy, culture and history.
The Meaning and Origin of Fushiki-juku
The word means "I know not". It derives from a famous exchange of words between Bodhidharma, a Zen monk who came from India to China in the fifth century, and the Chinese emperor at the time. In the dialogue, the monk kept rebuffing the emperor's requests to recognize his religious virtue with elusive answers. Apparently, the emperor got suspicious of the monk's true identity:
Emperor: Who are you who are standing before me?
Bodhidharma: I know not (fushiki).
By that disappointingly simple answer, Bodhidharma implied that our knowledge is inherently incomplete and superficial so that we cannot come to a comprehensive understanding of the world unless each of us humbly accept the fact that "I know not". As you may notice, his point is similar to the Socratic paradox known by the phrase "I know that I know nothing" or "I know one thing: that I know nothing", a well-known saying derived from Plato's account of the Greek philosopher Socrates.
Our program is, therefore, designed, not only to add a new stock of knowledge, but also to transform cognitive schemes that we unconsciously depend on in our daily life. To put it differently, it aims to upgrade the Operating System (OS) of the human mind itself instead of just feeding a new set of data. Throughout the program, students are encouraged to know more about themselves and acquire a capacity to make better judgment on complex issues that require examination from multiple points of view.
About the Curriculum
Fushiki-juku classes are held regularly on Saturdays so that students can attend classes while continuing their jobs as executives in their own companies on weekdays. During the academic year, students can take part in a fieldwork in October in order to know more about their own country.
Its academic year is divided into four Modules. The first Module is allocated for studying the history of major cultures, civilizations and religions around the world.
In the second Module, the focus is shifted to the studies about Japan. Students are asked to know more deeply about their own country including its cultural traditions and value systems. They also learn about the factors behind the success and failure of Japan's economy.
The third Module focuses on the historical development and structural change of the capitalist world after the Industrial Revolution. It also covers topics such as the emergence of China and the future of the 'Internet society.'
The last Module is the hardest and, perhaps, the most rewarding for students. At the end of the academic year, each of them is required to present their findings to his or her own company's top management and to create an action plan for the future. Some of the proposals have actually been adopted by management and even changed the company's growth path.
Profile of the Founder and Head of Fushiki-juku
Dr. Iwao Nakatani (Ph.D. in Economics, Harvard University in 1973, and Emeritus Professor of Hitotsubashi University) is the founder and Chairman of Fushiki-an and Head of Fushiki-juku.
Dr. Nakatani is known as one of the leading economists and opinion leaders in Japan. He has made various contributions to the intellectual community as well as Japan's policy making process over the past three decades. Among his many roles as public policy adviser, he served on Prime Minister Hosokawa's Structural Reform Council in 1993, and himself played the role as deputy chairman of late Prime Minister Obuchi's Economic Strategy Council in 1998. Dr. Nakatani has taught economics for many years in various well-known universities such as Harvard University, Osaka University, and Hitotsubashi University. In 2000, he was appointed President of Tama University for eight years. He also served as an outside director of Sony for six years between 1999 and 2005. For the period 2003 to 2005, he was Chairman of the Board of Directors at Sony.
Dr. Nakatani is the author of a large number of best-selling books and articles, including Introduction to Macroeconomics, one of the best-selling macroeconomics textbooks in Japan, Why is Capitalism Self-collapsing?, and The World After Capitalism. In 2018, he published Can AI Capitalism Save the Human Race?.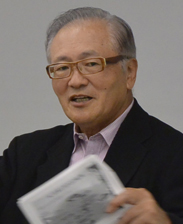 Participating Companies
The following is a sample of the companies that have participated in Fushiki-juku:
AGC Inc.
Ajinomoto CO., Inc.
ALL NIPPON AIRWAYS CO., LTD.
ASKUL Corporation
Benesse Holdings, Inc.
Chugai Pharmaceutical Co., Ltd.
Daicel Corporation
DAIKIN INDUSTRIES, LTD.
Daiwa House Industry Co., Ltd.
Daiwa Securities Group Inc.
DENSO CORPORATION
DIC Corporation
EAST JAPAN RAILWAY COMPANY
ENEOS Holdings,Inc.
FUJIFILM Corporation
HAKUHODO Inc.
Harima Chemicals Group, Inc.
Hitachi, Ltd.
Idemitsu Kosan Co., Ltd.
ITOCHU Corporation
Komatsu Ltd.
Kuraray Co., Ltd.
Maeda Corporation
Mitsubishi UFJ Financial Group, Inc.
MITSUI FUDOSAN CO., LTD.
Nihon Unisys, Ltd.
NIPPON EXPRESS CO., LTD.
Nippon Sheet Glass Co., Ltd.
NISSAN MOTOR CO., LTD.
NTT DOCOMO, INC.
Oki Electric Industry Co., Ltd.
Oriental Land Co., Ltd.
ORIX Corporation
POLA ORBIS CORPORATION INC.
POLYPLASTICS CO., LTD.
Rakuten, Inc.
Recruit Co., Ltd.
RICOH COMPANY, LTD.
Ryohin Keikaku Co., Ltd.
SAPPORO HOLDINGS LTD.
SCSK Corporation
Shin-Etsu Chemical Co., Ltd.
SKY Perfect JSAT Corporation
Sony Corporation
Sumitomo Corporation
Sumitomo Forestry Co., Ltd.
Takeda Pharmaceutical Company Limited
Takenaka Corporation
TEIJIN LIMITED
Terumo Corpotation
TOKYU CORPORATION
TOPCON CORPORATION
Toray Industries, Inc.
Toshiba Corporation
TOYOTA MOTOR CORPORATION
TOYOTA TSUSHO CORPORATION
Yokogawa Electric Corporation
Contact Fushiki-an or Fushiki-juku
By Telephone: +81(3)3292 0320
By e-mail: office@fushikian.jp
URL: https://www.fushikian.jp
Address: Uchikanda 1-14-4, Chiyoda-ku, Tokyo, 101-0047, Japan